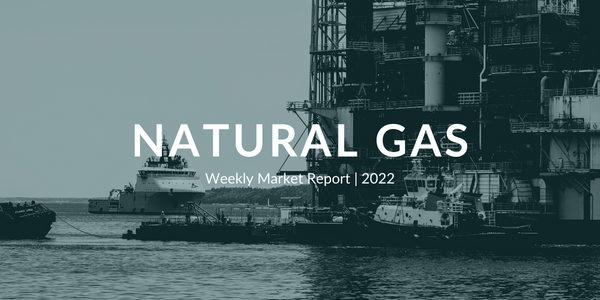 Natural Gas Weekly – December 8, 2022
Natural Gas – Week In Review
Natural gas report week December 8, 2022.
This week's draw of 21 Bcf was in line with analysts' expectations which ranged from withdrawals of 11 Bcf to 46 Bcf. Comparatively, last year's withdrawal was 59 Bcf and the five-year average of net withdrawals is 49 Bcf. Current storage totals 3,462 Bcf which is 1.6% below the five-year average but still within the five-year historical range.
---
Natural Gas Weekly Fundamentals
Demand- Overall demand grew by 8.6%, adding 7.2 Bcf/d over last week for an average 115.5 Bcf/d. Demand increased in almost all sectors; power generation up by 4.7 Bcf/d, industrial demand by 0.5 Bcf/d, and residential/commercial sector by 4.2 Bcf/d. The LNG export ship count totaled 23 for an overall capacity of 85 Bcf, up 26 Bcf from last week.

Production – Production declined slightly, by 0.6 Bcf/d, averaging 100.2 Bcf/d over the report week. Imports from Canada remain unchanged from last week. The natural gas rig count stayed the same as the prior week at 155 rigs. Oil-directed also stayed steady at 627.

Weather – the NOAA 8-14 day forecast models show the progression of a cold front descending from Canada, bringing below-average temperatures for most of the Lower 48. This is likely to lead to increased heating demand which will likely translate to the higher prices most of us have been anticipating.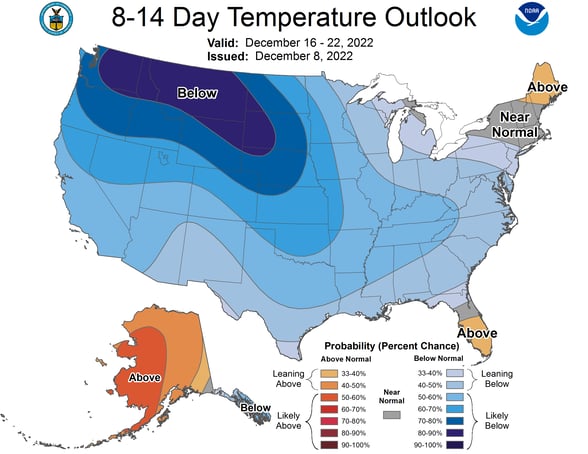 From: https://www.cpc.ncep.noaa.gov/products/predictions/814day/index.php
Natural Gas Prices

NYMEX prices have tumbled across the last two report weeks. Enough that it's had many wondering if the $10 winter gas projections were little more than hot air. Not to worry, skeptics, it will likely come to pass soon enough when Old Man Winter decides to stay a spell. In the interim, above-average temperatures subdued heating demand and led to a weekly withdrawal that saw the deficit to the five-year average actually contract.
For now, after months of volatility fueled by geopolitical conflict, COVID, and a pipeline explosion, natural gas prices have settled into a more reliable return to seasonal fundamentals.
---
Natural Gas Weekly Market Report - December 8, 2022
January NYMEX


January settled Tuesday at $5.962/Dth up 23.9 cents from Wednesday's close at $5.723/Dth but down 77.6 cents from the prior week.


12 Month Strip

Settled Thursday at $5.180/Dth, down 49.4 cents from the prior week.
Seasonal Strips

The winter strip (JAN23-MAR23) settled Thursday at $5.714/Dth, down 74.2 cents from last week while the summer strip (APR23-OCT23) settled at $4.894/Dth, down 40.8 cents week-over-week.
Calendar Years 2023/2024/2025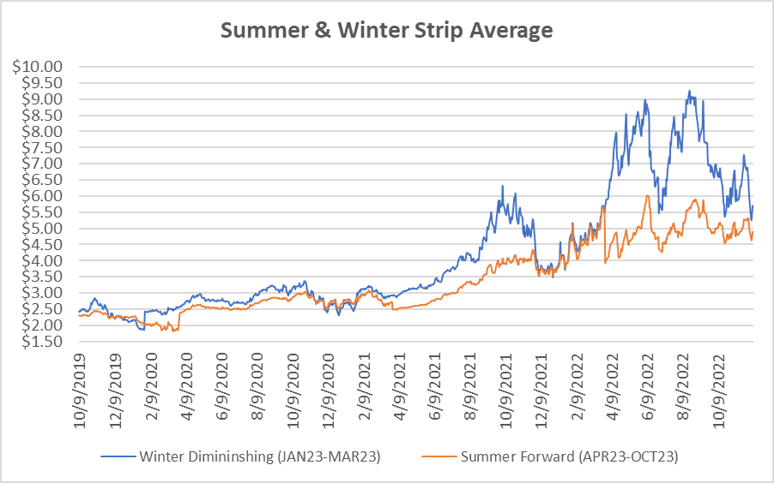 CY23 settled Thursday at $5.180/Dth, down 49.4 cents from the prior week.
CY24 settled Thursday at $4.597/Dth, down 18.2 cents from the prior week.
CY25 settled Thursday at $4.538/Dth, down 4.2 cents from the prior week.
Crude Oil

Settled Thursday at $71.46/barrel, down $9.76 from the prior week.
---
Need Help Making Sense of Natural Gas Prices?
We can help you manage risk and navigate the current price volatility. We'll evaluate your current contract and explore your natural gas buying options.
Call us at 866-646-7322 for a no-cost, no-obligation analysis today.