For natural gas report week May 20, 2021, the EIA reported a net increase in storage of 71 Bcf. The build was at the high end of forecasts ranging from injections of 56 Bcf to 76 Bcf, averaging 63 Bcf. Last year for the same week there was an injection of 84 Bcf and the five-year average is an injection of 86 Bcf.
Working gas in storage was 2,100 Bcf as of Friday, May 14, 2021 per EIA estimates. Inventory was 391 Bcf (-15.7%) less than last year for the same week and 87 Bcf (-4.0%) below the five-year average of 2,187 Bcf.
Natural Gas Market Recap
June NYMEX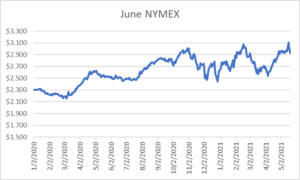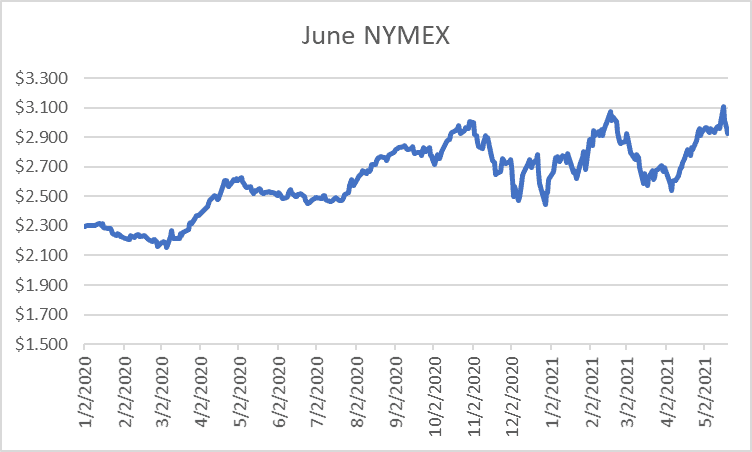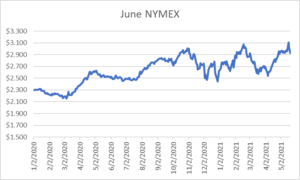 Settled Thursday at $2.925/Dth, down 3.9 cents from Wednesday's close at $2.964/Dth.
12 Month Strip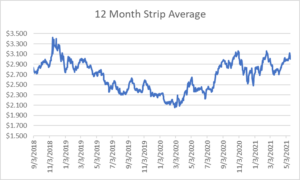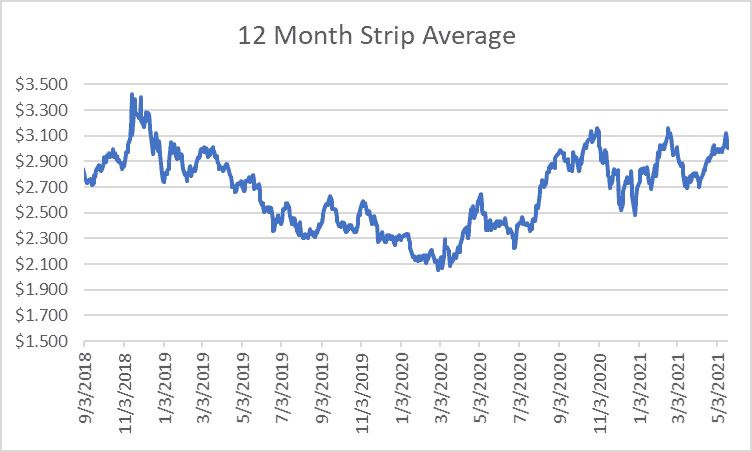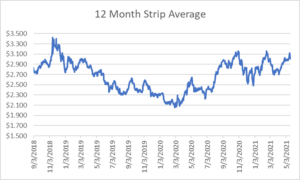 Settled Thursday at $3.001/Dth, down 1.3 cents from the prior week.
Seasonal Strips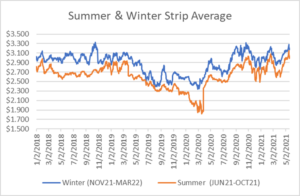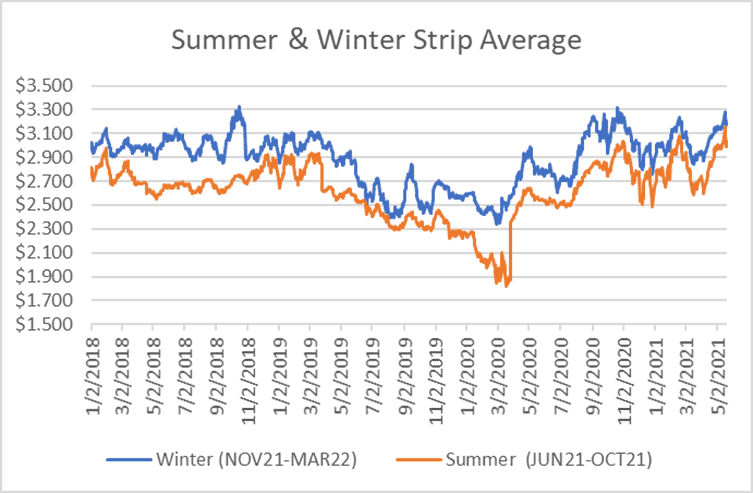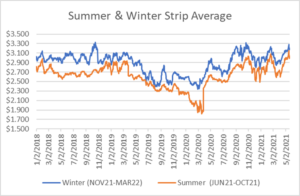 The summer strip (JUN21-OCT21) settled Thursday at $2.989/Dth, down 3.2 cents from the week prior. The winter strip (NOV21-MAR22) settled Thursday at $3.171/Dth, down less than a penny from the week prior.
Natural Gas Weekly
Natural Gas Report – May 20, 2021
Natural Gas Fundamentals
Overall supply averaged 96.4 Bcf/d last week as production remained steady, week over week. Meanwhile, imports from Canada fell by 6.2%.
Total demand dropped by 10.8% from the prior report week, averaging 80.6 Bcf/d. Residential-commercial demand decreased by 39.7% with lower heating demand. Consumption for power generation grew by 1.9%. Industrial demand declined by 3.0% while exports to Mexico fell by 2.2%. Of note, "IHS Markit reports a rapid shift in Midwest natural gas demand early this week, with consumption for power generation rising 36% from Sunday to Tuesday and residential/commercial demand also declining by 36%."
LNG pipeline receipts averaged 10.3 Bcf/d. Twenty-one LNG vessels with a combined carrying capacity of 75 Bcf departed the U.S. between May 13 and May 19, 2021. Baker Hughes rig data shows the overall number of rigs in operation increased by five, up to 453. Natural gas specific rigs decreased by three from last week, down to 100.
---
Natural Gas Prices
Spot markets were largely tethered to shoulder season weather and regional production activity, as such, prices remained mixed. With above average temperatures expected for the East and mild weather anticipated for the West, NOAA forecasts suggest much of the same for spot prices through the next 14 days.
Fundamentals were generally consistent week over week and NYMEX prices mostly followed. As far as NYMEX forwards are concerned, EIA production forecasts offer a hint. "We expect dry natural gas production to continue to grow through the end of 2022, averaging about 94.4 Bcf/d in November and December of 2022, which is still more than 2.5 Bcf/d below December 2019." That forecast seems to be resonating with the market where beginning with 2nd Quarter CAL22 through CAL23, prices show signs of decline. Of course as the last year has taught us, quite a bit can change in a short amount of time.
---
Biden Administration Waives Sanctions Against Russia?
In April, the Biden Administration expelled "10 personnel from the Russian embassy in Washington, D.C., including members of Russian intelligence services" and imposed new sanctions. Last month's actions were consistent with campaign proclamations that a Biden Administration would be tough on Russia vowing, "Russia will pay a price for interfering in U.S. elections if he wins the White House." The price was left undefined.
The administration's stance was upended this week, when Secretary of State Antony Blinken announced the United States "waived sanctions against Russian natural gas giant Gazprom for its ownership of the nearly completed Nord Stream 2 gas pipeline to Germany, and against its CEO." Although intended to ease tensions with U.S. European allies, the move, met with bipartisan dissent, undoubtedly strengthens Russian influence over the region and undercuts a developing U.S. LNG export opportunity.
---
Do you have the best natural gas contract for your business?
We can help you evaluate your current contract and explore your natural gas buying options. Call us at 866-646-7322 for a no-cost, no-obligation analysis today.