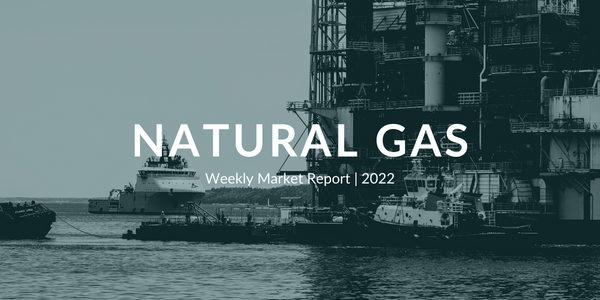 Natural Gas Weekly – November 17, 2022
Natural Gas – Week In Review
Natural gas report week November 17, 2022.
This week's injection of 64 Bcf was in line with analysts' expectations which ranged from 50 Bcf to 72 Bcf. Comparatively, last year's injection was 23 Bcf and the five-year average of net withdrawals is 5 Bcf. Current storage totals 3,644 Bcf which is 0.2% below the five-year average but still within the five-year historical range.
---
Natural Gas Weekly Fundamentals
Demand
Overall demand rose by 25.2%, growing by 18.2 Bcf/d week over week as nearly all sectors realized consumption gains. Power generation increased by 2.1 Bcf/d, industrial demand added 1.6 Bcf/d, and residential/commercial sector consumption grew by 14.4 Bcf/d. The LNG export ship count added one over last week, totaling 21 for an overall capacity of 82 Bcf.
Production
Production grew by 0.9 Bcf/d, averaging 101 Bcf/d over the report week. Additionally, imports from Canada are up 2.2 Bcf/d from last week. The natural gas rig count remained the same as the week before, totaling 155 rigs. Oil-directed rigs grew by nine, for a total of 622.


---
Natural Gas Price News
Cash prices and NYMEX futures generally rose over the report week as temperatures cooled leading to increased heating-related demand. In their November 2022 Short-Term Energy Outlook, the EIA adjusted the Henry Hub winter price forecast to an average of $6.00/Dth, down more than $1.00 from last month's estimate thanks to substantial storage builds throughout the closing month of injection season.
Looking to next year, the EIA expects economic conditions, renewable growth, and high production to keep natural gas prices in check.
Finally, the Freeport LNG terminal's return to service is now slated for mid-December. Despite near-full storage levels in Europe, Freeport's reentry is anticipated to return 2.0 Bcf/d to LNG export demand. While Freeport officials maintain sufficient work has been completed to allow for regulatory review and recertification, it's unclear if the organization has addressed the understaffing issue that an independent investigation revealed to be a contributing factor in the June pipeline explosion.
---
Natural Gas Weekly Market Report - November 17, 2022
December NYMEX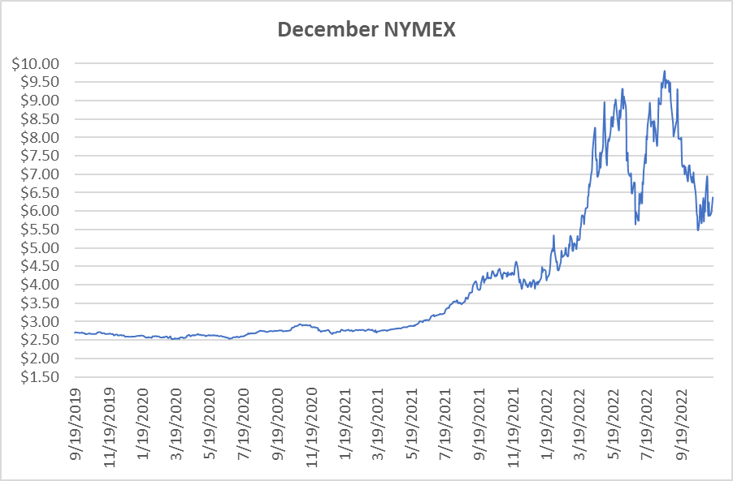 December NYMEX: December settled Thursday at $6.369/Dth up 16.9 cents from Wednesday's close at $6.200/Dth, and up 13.0 cents from the prior week.
12 Month Strip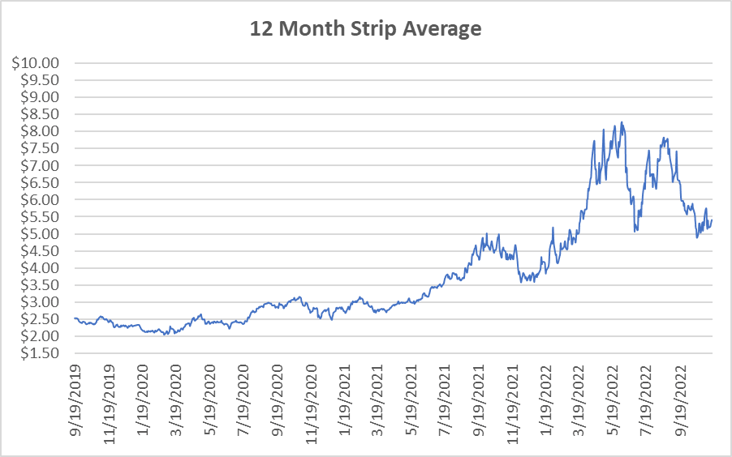 Settled Thursday at $5.411/Dth, up 1.3 cents from the prior week.
Seasonal Strips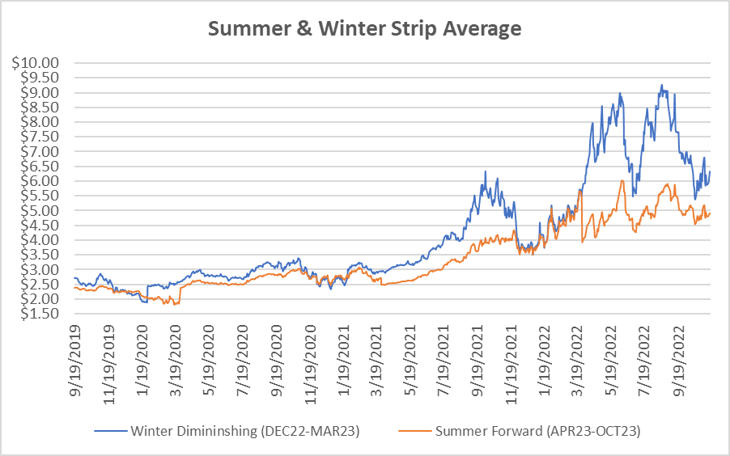 The winter strip (DEC22-MAR23) settled Thursday at $6.328/Dth, up 12.1 cents from last week while the summer strip (APR23-OCT23) settled at $4.908/Dth, down 4.2 cents week-over-week.
Calendar Years 2023/2024/2025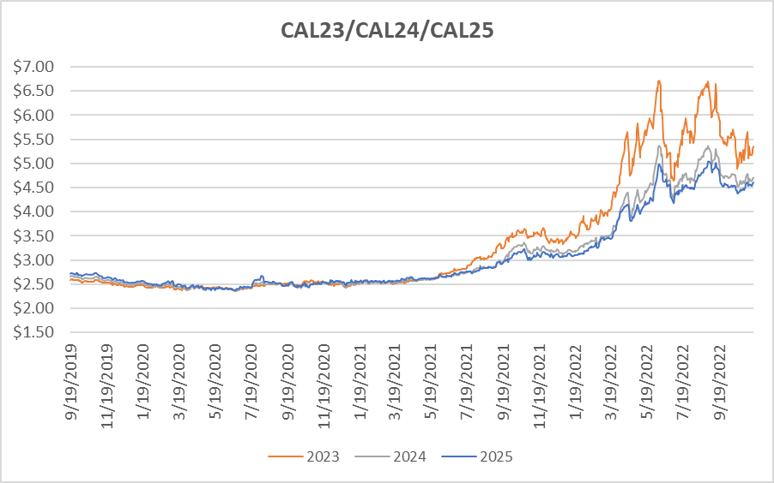 CY23 settled Thursday at $5.347/Dth, unchanged from the prior week.
CY24 settled Thursday at $4.702/Dth, up 2.0 cents from the prior week.
CY25 settled Thursday at $4.607/Dth, up 5.1 cents from the prior week.
Crude Oil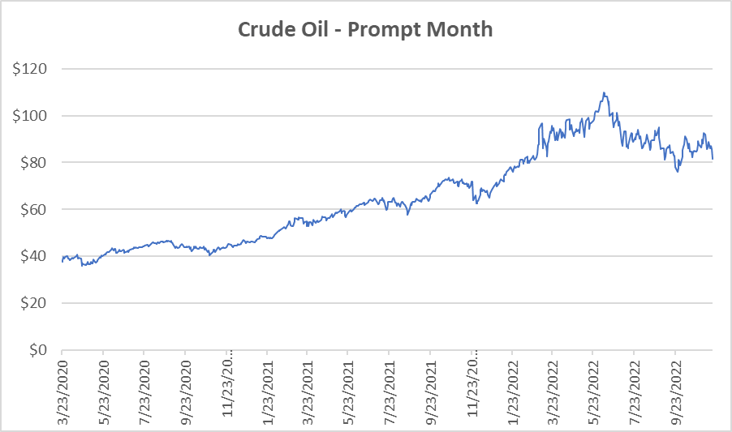 Settled Thursday at $81.64/barrel, down $4.83 from the prior week.
---
Need Help Making Sense of Natural Gas Prices?
We can help you manage risk and navigate the current price volatility. We'll evaluate your current contract and explore your natural gas buying options.
Call us at 866-646-7322 for a no-cost, no-obligation analysis today.