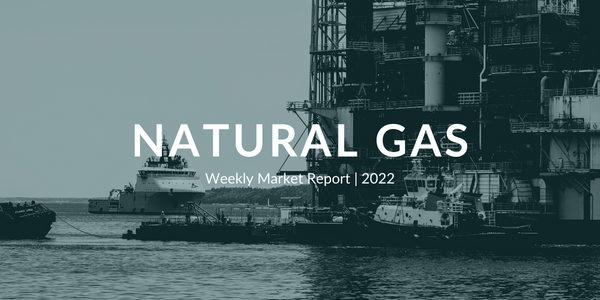 Natural Gas Weekly – November 23, 2022
Natural Gas – Week In Review
Natural gas report week November 23, 2022.
This week's draw of 80 Bcf (the first of the season) was in line with analysts' expectations which ranged from withdrawals of 65 Bcf to 111 Bcf. Comparatively, last year's withdrawal was 14 Bcf and the five-year average of net withdrawals is 48 Bcf. Current storage totals 3,564 Bcf which is 1.1% below the five-year average but still within the five-year historical range.
---
Natural Gas Prices
NYMEX natural gas futures prices jumped on the winter's first withdrawal following a late-season fall rally which brought weeks of triple digit injections. Market response belied sentiment that centered on a return to weather-driven fundamentals with the expectation that once temperatures chilled, prices would push higher. Not to disappoint, prompt month prices shot up more than 75.0 cents week-over-week and the Winter Strip broke 90.0 cents on the week.
Nonetheless, domestic and European storage totals look optimistic heading into winter. At home, we're kicking off winter heating season just shy of the five-year average – a reality far more promising than early injection season predictions. Additionally, only a month ago, natural gas oversupply in Europe sent prices tumbling below zero…also following bleak forecasts just months earlier.
Despite healthy storage levels, both European and domestic natural gas prices remain tethered to short term weather forecasts. Cold temperatures, higher prices.
While last year domestic prices were more sensitive to geopolitical tensions overseas that what we've seen in recent weeks, Gazprom's threats to reduce natural gas flows through Ukraine may result in increased calls for U.S. LNG which will increase domestic demand as the Freeport LNG terminal returns to service, overall translating to higher prices at home and overseas.
---
Natural Gas Weekly Market Report - November 23, 2022
December NYMEX


December settled Tuesday at $6.779/Dth up less than a penny from Monday's close at $6.776/Dth, but up 74.5 cents from the prior week.
12 Month Strip

Settled Tuesday at $5.723/Dth, up 45.2 cents from the prior week.
Seasonal Strips

The winter strip (DEC22-MAR23) settled Tuesday at $6.917/Dth, up 91.0 cents from last week while the summer strip (APR23-OCT23) settled at $5.086/Dth, up 23.0 cents week-over-week.
Calendar Years 2023/2024/2025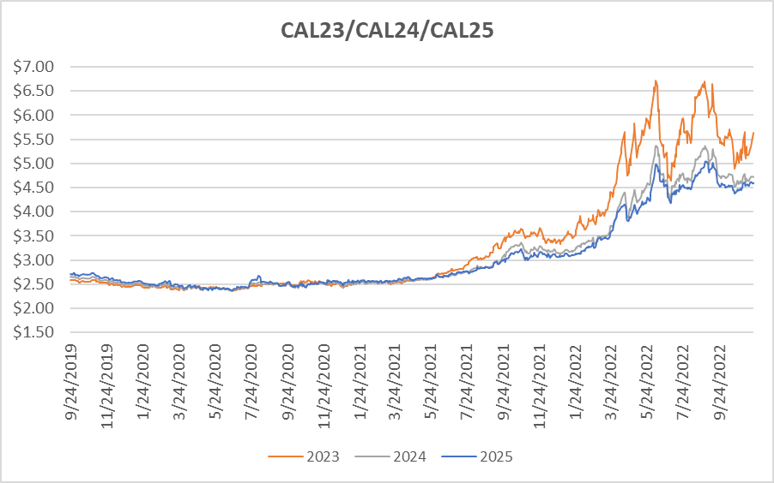 CY23 settled Tuesday at $5.637/Dth, up 40.5 cents from the prior week.
CY24 settled Tuesday at $4.714/Dth, up 4.9 cents from the prior week.
CY25 settled Tuesday at $4.599/Dth, up 3.1 cents from the prior week.
Crude Oil

Settled Tuesday at $80.95/barrel, down $5.30 from the prior week.
---
Need Help Making Sense of Natural Gas Prices?
We can help you manage risk and navigate the current price volatility. We'll evaluate your current contract and explore your natural gas buying options.
Call us at 866-646-7322 for a no-cost, no-obligation analysis today.