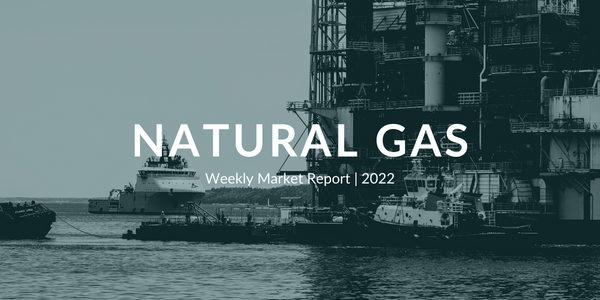 Natural Gas Weekly – September 8, 2022
Natural Gas – Week In Review
Natural gas report week September 8, 2022.
This week's injection of 54 Bcf was in line with analysts' expectations which ranged from 47 Bcf to 66 Bcf. Comparatively, last year's injection was 48 Bcf and the five-year average of net injections is 65 Bcf. Current storage totals 2,694 Bcf which is 11.5% below the five-year average but still within the five-year historical range.
Natural gas futures and spot prices alike plummeted across the report week on climbing production, subdued power generation demand, and nebulous market hesitation over an EPA ruling that may or may not impact LNG export capacity.
---
Natural Gas Weekly Fundamentals
Demand
Total demand fell by 1.5 Bcf/d from last week, most of the drop due to a 1.3 Bcf/d decline in consumption for power generation. The LNG export ship count remained the same as last week at 18 for an overall capacity of 67 Bcf.
Production
Production grew slightly over last week, adding 0.9 Bcf/d. Of note, production is up 8.0 Bcf/d over the same week last year. According to S&P Global Commodity Insights, "So far in September, domestic production averaged over 96.6 Bcf/d as output neared record highs not seen since late December 2021," adding that, "Well completions have also been on the rise, adding momentum to recent production growth." In fact, this week the natural gas rig count added four over last week, totaling 162 rigs. Oil-directed rigs fell by nine for a total of 596.
Storage Forecast
The average rate of injections into storage is 5% lower than the five-year average at this point in refill season (which traditionally runs April through October). If the injection rate matches the five-year average of 10.2 Bcf/d through October 31, natural gas supply will total 3,296 Bcf, 349 Bcf lower than the five-year average of 3,645 Bcf.
What's Driving Natural Gas Prices This Week?
Natural gas price drops across the report week were so pronounced, the market activity warrants a closer look at why. Yes, temperatures have cooled across much of the county and production has been solid for a few weeks. Loss of some upward momentum would be reasonable. But a loss like $1.361 for the balance of CY22 suggests there's something more at work than superficial fundamentals.
Weather
Forecasts seem to be in dispute about where temperatures are headed through the end of September. Indeed, even the National Weather Service has shifted their forecasts within the last 24 hours. As of Thursday, "National Weather Service (NWS) forecasts call for moderating temperatures in the West and much of the Lower 48 beginning this weekend and continuing through the week ahead. Long-range outlooks point to seasonally benign weather next month." At the time this post was published, their 8-14 day outlook was substantially different (see temperature map).
Perhaps that also explains why as of the time of publication, futures prices have changed course and are recovering some of the week's losses. I would not, however, expect warm weather alone to return us to the $10-mark we saw in prompt month prices the week before. With less than eight weeks left in injection season, it would take sustained heat, higher power burn, and a hit to production (hurricane season?) to make than happen.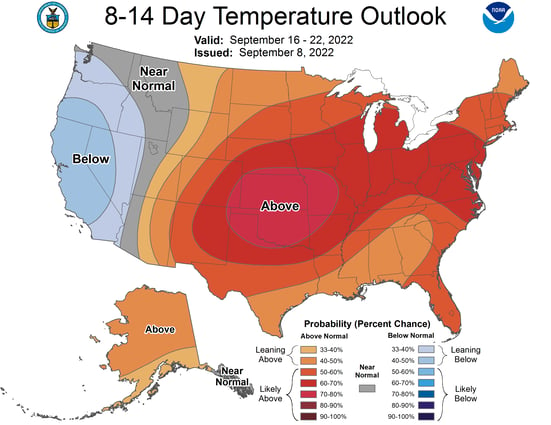 EPA/Cheniere
This one is a little more complicated, but general idea is this:
The Environmental Protection Agency's (EPA) National Emission Standards for Hazardous Air Pollutants (NESHAP) limits formaldehyde emissions released by gas-fired turbines. Compliance has been waived for the last 18 years. The Biden administration recently lifted the waivers, requiring more than 250 domestic gas turbines to comply with the stricter emissions standards.
US LNG exporter Cheniere sought exception to the rule via reclassification under a special subcategory. The EPA denied the request on Tuesday.
Cheniere affirmed LNG supplies would not be impacted, "Although this decision may result in unwarranted expenditures, we believe the steps needed to come into full compliance will not result in a material financial or operational impact and that we will continue to reliably supply LNG to customers and countries around the world."
Nonetheless, some analysts believe the EPA decision added momentum to the downward price movement. Other's have objected, claiming prices were already trending downward, adding the Biden administration won't place our ability to deliver on promised LNG deliveries to European nations in jeopardy.
At this point, it is unclear how quickly enforcement of the NESHAP could impact LNG exports. We'll continue watching this.
---
Natural Gas Weekly Market Report - September 8, 2022
October NYMEX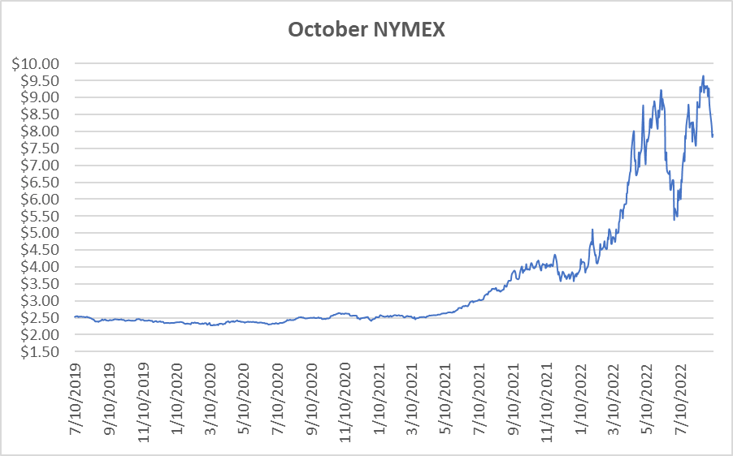 October settled Thursday at $7.915/Dth, up 7.3 cents from Wednesday's close at $7.842/Dth, but down $1.347 over the prior week.
12 Month Strip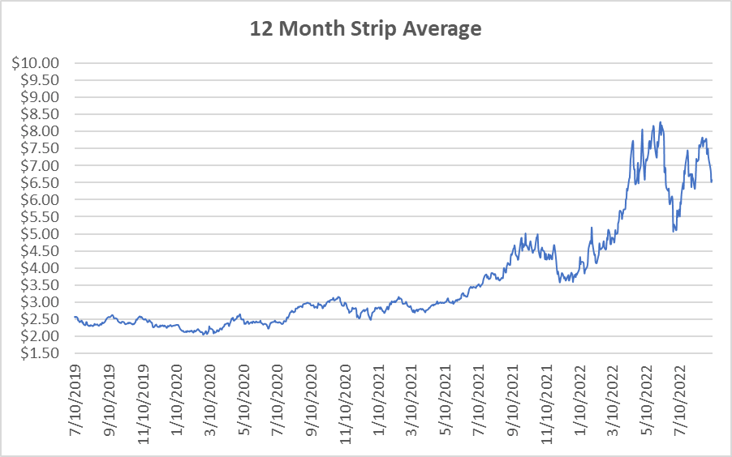 Settled Thursday at $6.581/Dth, down 91.4 cents from the prior week.
Seasonal Strips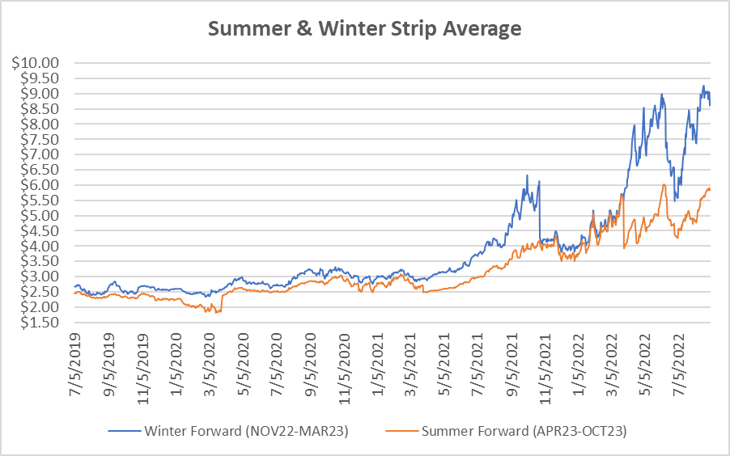 The winter forward (NOV22-MAR23) settled Thursday at $7.810/Dth, down $1.248 from last week while the summer strip (APR23-OCT23) settled at $5.346/Dth, down 56.0 cents from last week.
Calendar Years 2022/2023/2024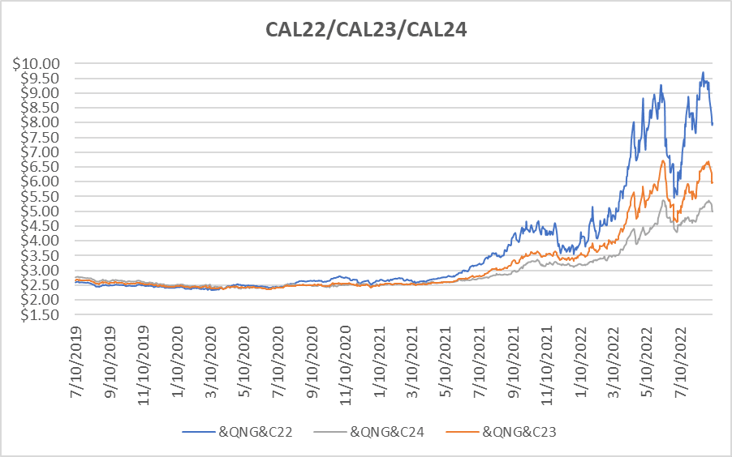 CY22 settled Thursday at $7.996/Dth, down $1.361 from the prior week.
CY23 settled Thursday at $5.986/Dth, down 70.8 cents from the prior week.
CY24 settled Thursday at $4.981/Dth, down 37.7 cents from the prior week.
Crude Oil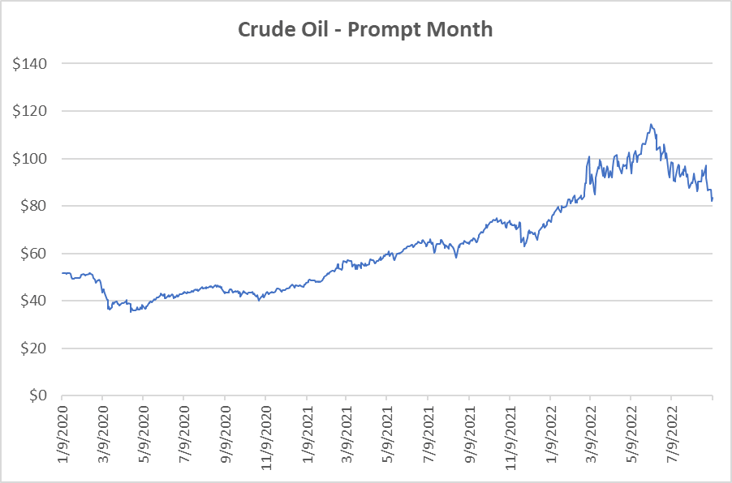 Settled Thursday at $83.54/barrel, down $3.07 from the prior week.
---
Need Help Making Sense of Natural Gas Prices?
We can help you manage risk and navigate the current price volatility. We'll evaluate your current contract and explore your natural gas buying options.
Call us at 866-646-7322 for a no-cost, no-obligation analysis today.