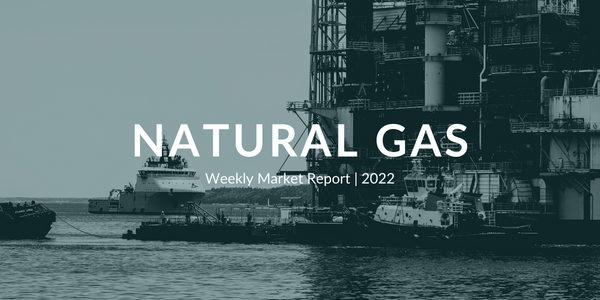 Natural Gas Weekly – September 15, 2022
Natural Gas – Week In Review
Natural gas report week September 15, 2022.
This week's injection of 77 Bcf at the high end of analysts' expectations which ranged from 65 Bcf to 78 Bcf. Comparatively, last year's injection was 78 Bcf and the five-year average of net injections is 82 Bcf. Current storage totals 2,771 Bcf which is 11.3% below the five-year average but still within the five-year historical range.
---
Natural Gas Weekly Fundamentals
Demand
Total demand declined for a second week, shedding 2.6 Bcf/d from last week with continued declines in natural gas used for power generation compliments of milder temperatures. Although recent weeks have been marked by drops in overall consumption, the EIA anticipates 2022 will break all-time demand records, "…we expect U.S. natural gas consumption in 2022 to increase by 3.6 Bcf/d from 2021 levels to average 86.6 Bcf/d for the year, the highest annual natural gas consumption on record. We forecast that U.S. natural gas consumption will increase in all end-use sectors in 2022, led by the electric power sector and the residential and commercial sectors."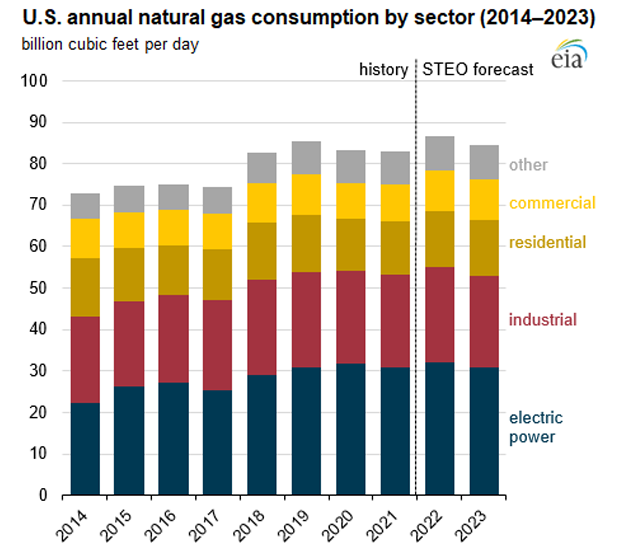 Production
Production declined slightly over last week, losing 0.4 Bcf/d. For the second week in a row the natural gas rig count added four, totaling 166 rigs, up 64% from last year at this time. The continued addition of new rigs is a positive sign for production. According to the EIA's most recent Short Term Energy Outlook natural gas forecast, U.S. dry natural gas production is expected to "average 99.0 Bcf/d in 4Q22 and then rise to 100.4 Bcf/d for 2023."
Storage Forecast
The average rate of injections into storage is 5% lower than the five-year average at this point in refill season (which traditionally runs April through October). If the injection rate matches the five-year average of 10.0 Bcf/d through October 31, natural gas supply will total 3,291 Bcf, 354 Bcf lower than the five-year average of 3,645 Bcf.
What's Driving Natural Gas Prices This Week?
Rail Strike
The increasing likelihood of an impending rail strike sent natural gas prices spiking on fears coal shipments could be interrupted, adding to natural gas demand for power generation. A tentative agreement reversed much of the gains, but the slide was kept in check by above-average temperatures forecast for next week.
We'll continue to watch this story as final votes on the proposed agreement are set to take place in the next few weeks and early worker sentiment and remained at best skeptical and at worst unfavorable.
---
Natural Gas Weekly Market Report - September 15, 2022
October NYMEX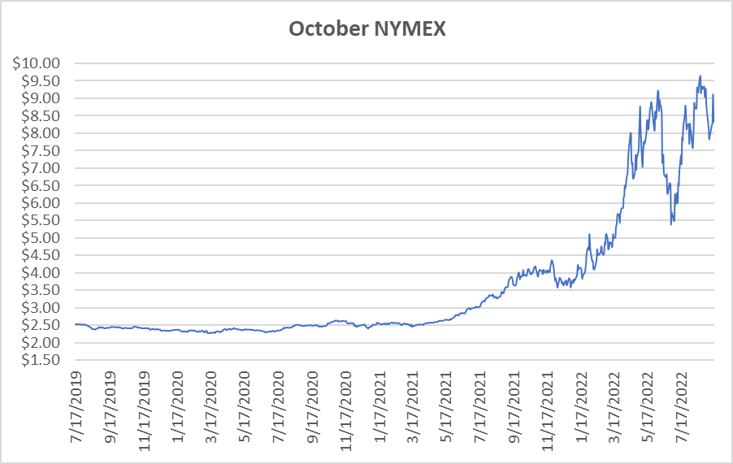 Settled Thursday at $8.324/Dth, down 79.0 cents from Wednesday's close at $9.114/Dth, but up 40.9 cents over the prior week.
12 Month Strip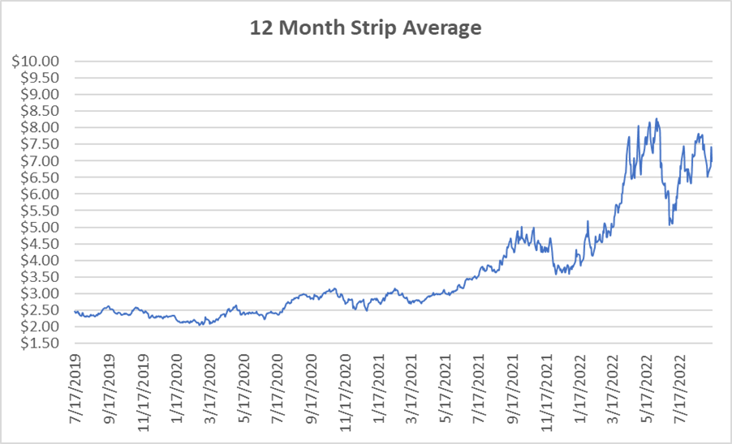 Settled Thursday at $6.986/Dth, up 40.5 cents from the prior week.
Seasonal Strips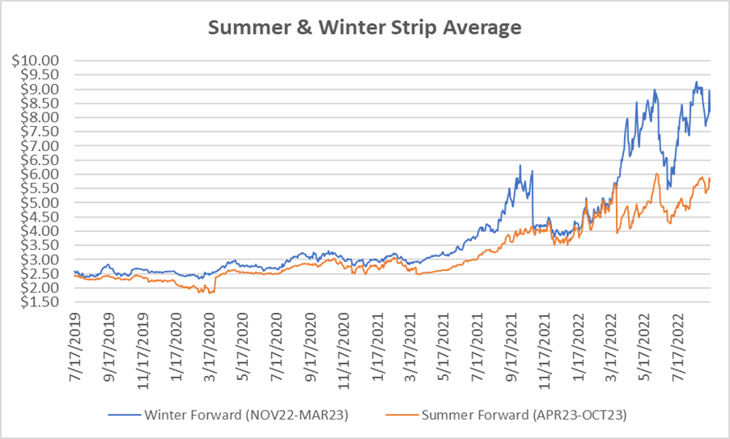 The winter forward (NOV22-MAR23) settled Thursday at $8.223/Dth, up 41.3 cents from last week while the summer strip (APR23-OCT23) settled at $5.743/Dth, up 39.7 cents from last week.
Calendar Years 2022/2023/2024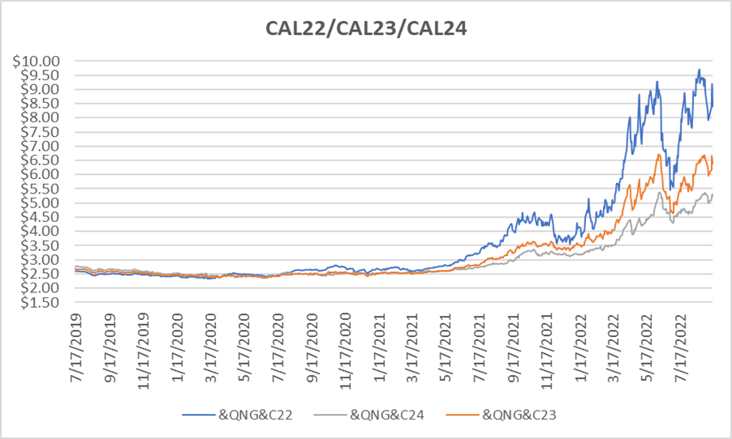 CY22 settled Thursday at $8.406/Dth, up 41.0 cents from the prior week.
CY23 settled Thursday at $6.386/Dth, up 40.0 cents from the prior week.
CY24 settled Thursday at $5.234/Dth, up 25.3 cents from the prior week.
Crude Oil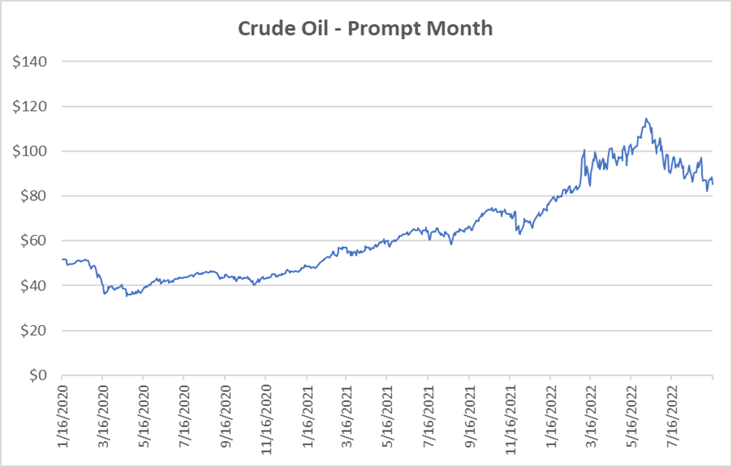 Settled Thursday at $85.10/barrel, up $1.56 from the prior week.
---
Need Help Making Sense of Natural Gas Prices?
We can help you manage risk and navigate the current price volatility. We'll evaluate your current contract and explore your natural gas buying options.
Call us at 866-646-7322 for a no-cost, no-obligation analysis today.