Natural gas report week, April 28, 2022. On Wednesday, May moved off the board at $7.267/Dth, the highest May close since 2008 when the month settled at $11.280/Dth. June, now the prompt month, initially showed signs of reprieve before reversing course and returning to an upward climb.
While week-over-week prices posted declines, it's worth noting as of time of publication (Friday morning) the market has quickly reversed those losses.
This week's injection of 40 Bcf was in line with analysts' expectations which ranged from 20-47 Bcf. The slight decline in production (.50 Bcf/d) was easily offset by declines in every demand sector except LNG which remained steady over last week.
With little attention grabbing in the numbers, you might question why prices are what they are. And that would be a good question. Let's take a look at what may be driving prices this week.
Price Factors: Natural Gas Report Week April 28, 2022
Even though production and demand numbers weren't off the charts either way this week, prices remain higher that what has been historically typical for this time of year. Why?
A Quick Look Back at 2008. – We'll get into this a little more next week, but it makes sense that if the last time prices were this high at this point in the year, it was 2008 that we look back to 2008 as a point of reference. What was going on then that prices were above the $10-mark? In short, a 2009 CRS report to Congress identified a tight supply-demand balance as one of the main culprits that drove prices up 30% during the first half of the year.

At present, our storage totals are 21.4% below last year's numbers and 17% below the five-year average. And even though we are still within the historical range of the five-year average, we are trending toward the minimum.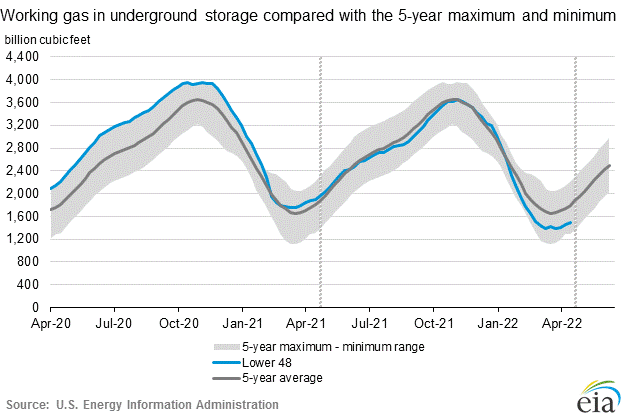 From https://ir.eia.gov/ngs/ngs.html
On an optimistic note, prices peaked above $13 before dropping more than 50% throughout the second half of the year. Not ready for too much optimism just yet? Maybe the natural gas rig count from this week's EIA report will help: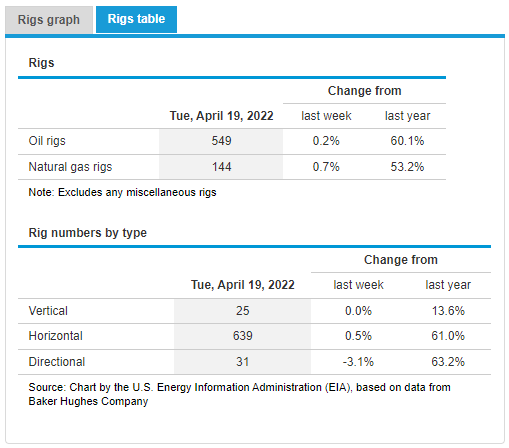 From https://www.eia.gov/naturalgas/weekly/

Weather – Still a little chilly for this time of year. Even though it didn't result in higher heating demand across the report week, it's likely given the bulls a bit of encouragement.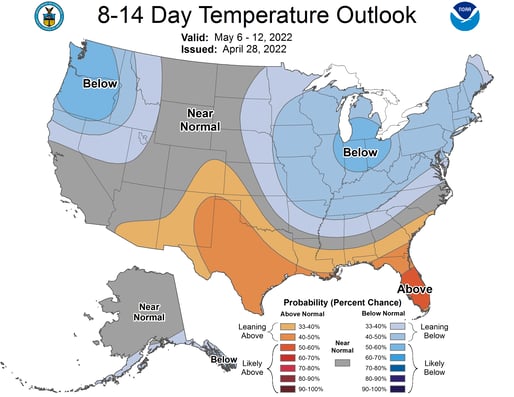 NOAA 8-14 Day Temperature Outlook


Russian Gas To Europe – This week, Russia cut off gas supply to Poland and Bulgaria, increasing fear of what may become a reality for other European nations more heavily dependent on Russian gas. Poland and Bulgaria maintain they have alternate solutions in place and will manage without Russian gas, but there are concerns the rest of Europe may face significant storage shortfalls going into winter heating season.

For domestic markets, this means continued high LNG demand. And of late, domestic markets have generally moved in tandem with international prices when driven by storage concerns.

If you want to read more on the subject, these are two straightforward stories:

https://www.bbc.com/news/58888451
https://www.cbsnews.com/news/russia-ukraine-gas-bulgaria-poland-europe/


---
Natural Gas Market Report – April 28, 2022
June NYMEX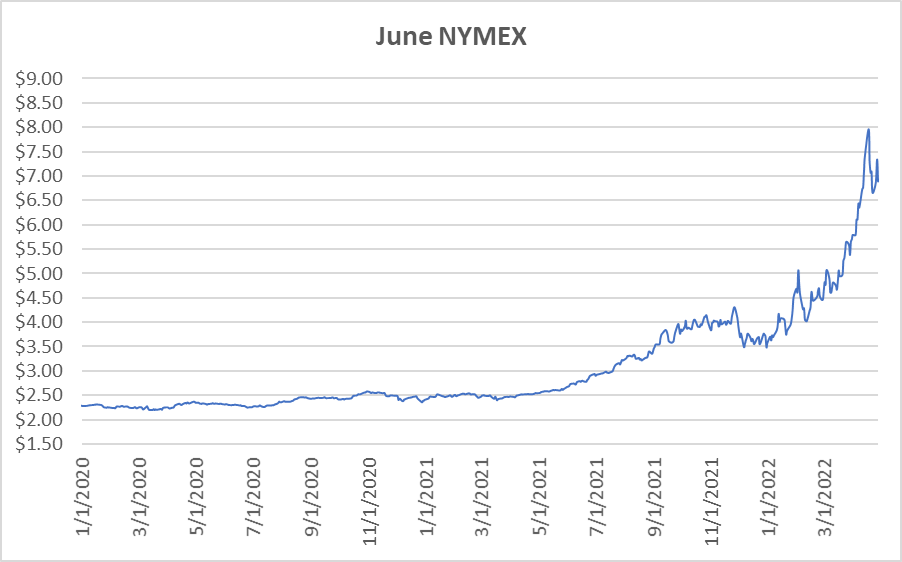 May moved off the board Wednesday, April 27th, settling the month at $7.267/Dth.

June settled Thursday at $6.888/Dth, down 45.1 cents from Wednesday's close at $7.339/Dth and 20.8 cents over the prior week.
12 Month Strip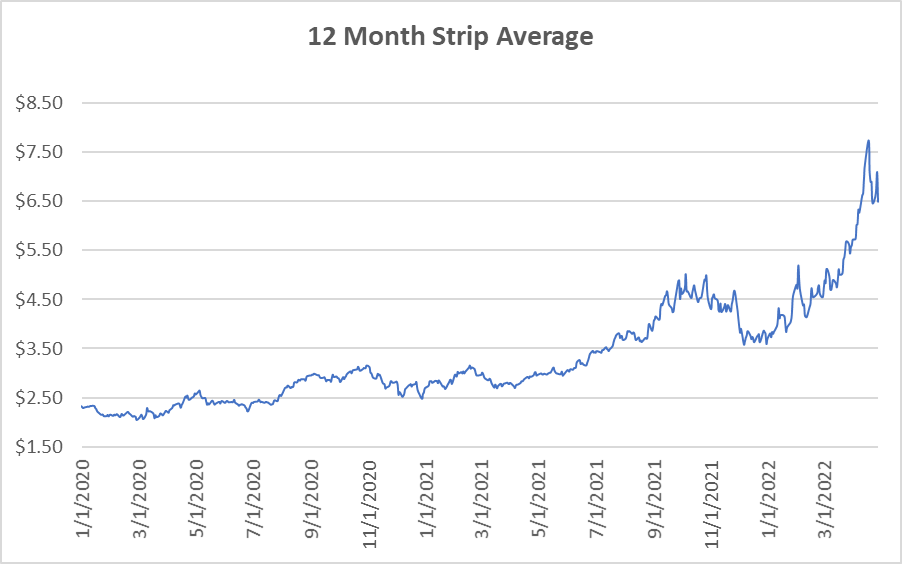 Settled Thursday at $6.486/Dth, down 40.7 cents from the prior week.
Seasonal Strips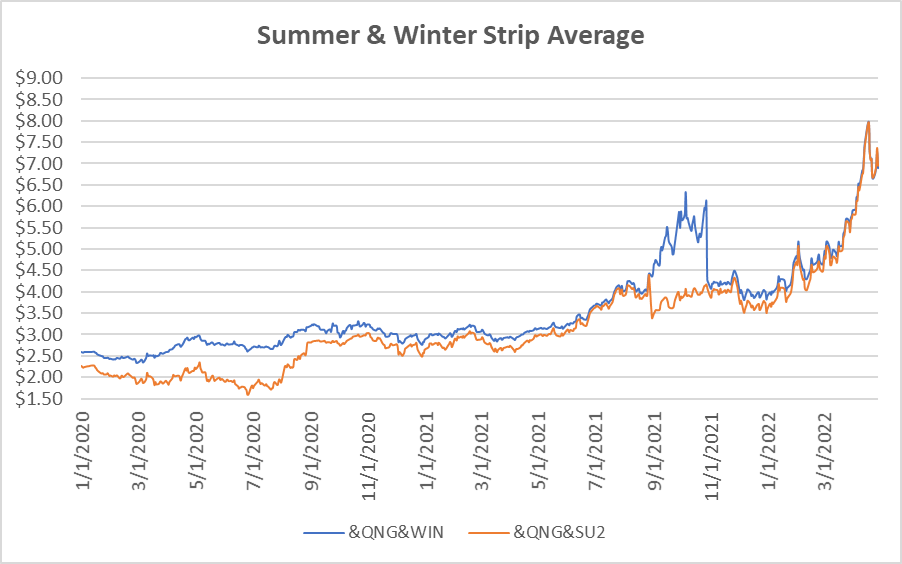 The summer strip (JUN22-OCT22) settled at $6.958/Dth, down 16.3 cents from the week prior. The winter forward (NOV22-MAR23) settled Thursday at $6.891/Dth, down 22.4 cents from the week prior.
Calendar Years 2022/2023/2024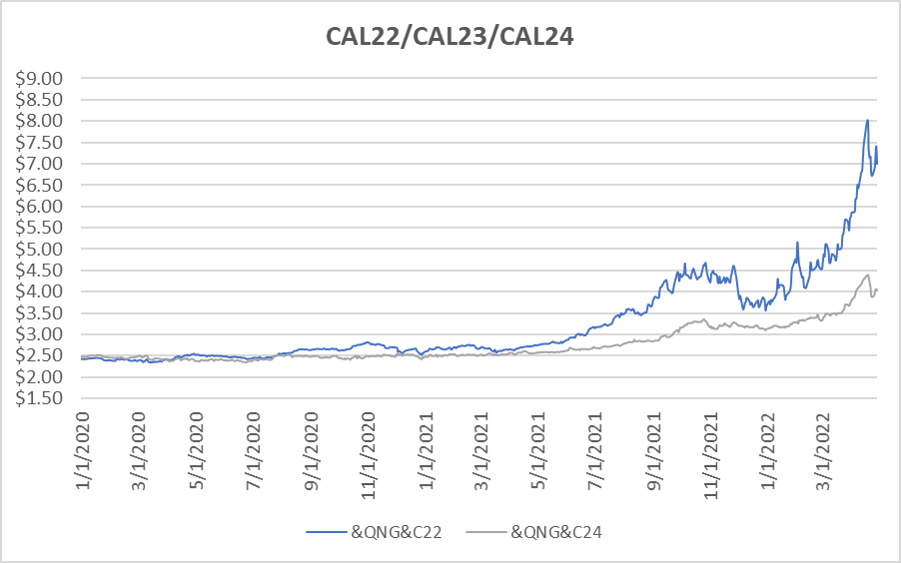 CY22 settled Thursday at $7.000/Dth, down 17.1 cents from the prior week.
CY23 settled Thursday at $4.958/Dth, down 9.7 cents from the prior week.
CY24 settled Thursday at $4.036/Dth, down 6.1 cents from the prior week.
Crude Oil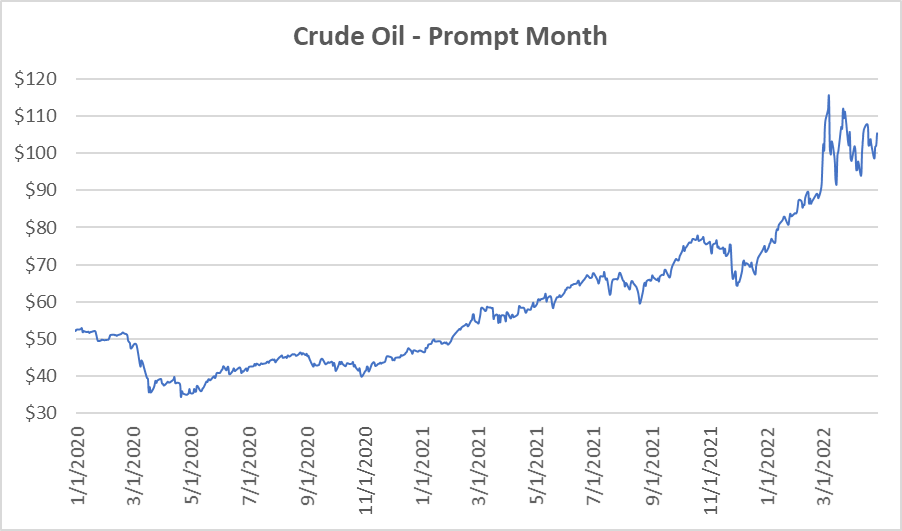 Settled Thursday at $105.36/barrel, up $1.57 from the prior week.
---
Need Help Making Sense of Natural Gas Prices?
Give us a call. We can help you manage risk and navigate the current price volatility.
We'll evaluate your current contract and explore your natural gas buying options.
Call us at 866-646-7322 for a no-cost, no-obligation analysis today.