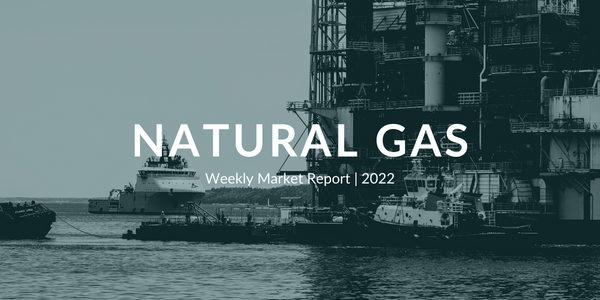 Natural Gas Weekly – October 27, 2022
Natural Gas – Week In Review
Natural gas report week October 27, 2022.
This week's injection of 52 Bcf was at the low end of analysts' expectations which ranged from 49 Bcf to 73 Bcf. Comparatively, last year's injection was 88 Bcf and the five-year average of net injections is 66 Bcf. Current storage totals 3,394 Bcf which is 5.5% below the five-year average but still within the five-year historical range.
---
Natural Gas Weekly Fundamentals
Demand -

Overall demand fell by 7.8%, losing 5.5 Bcf/d week over week. The largest change in consumption came from heating-related demand which fell by 3.7 Bcf/d as temperatures ranged from normal to above-normal throughout the country. The LNG export ship count grew by four, totaling 22 for an overall capacity of 81 Bcf.
Production -

Production added 0.5 Bcf/d for a second consecutive week, offsetting most of the 0.6 Bcf/d decline in imports from Canada. The natural gas rig count remained the same as the week before, totaling 157 rigs. Oil-directed rigs grew by 2, for a total of 612.


Storage Forecast - The average rate of injections into storage is 4% higher than the five-year average at this point in refill season (which traditionally runs April through October). If the injection rate matches the five-year average of 5.4 Bcf/d through October 31 (4 more days), natural gas supply will total 3,448 Bcf, 197 Bcf lower than the five-year average of 3,645 Bcf.
Natural Gas Prices
After five weeks of triple-digit injections, this week's report of 52 Bcf was something of a surprise even if analysts saw a return to double digits well in advance of the weekly EIA Storage report. Although the change was notable and below both last-year's injection as well as the five-year average, it failed to produce the knee-jerk reaction that's been typical of natural gas market activity across the last 15 months. Part of that is to be expected. With less than a week left in injection season, which typically runs through October 31st, this is the time of the year when temperatures turn chilly, heating demand increases, and storage injections turn to draws.
It seems the market is merely waiting on winter. Presently, temperatures are expected to be above average for half the country for the next two weeks.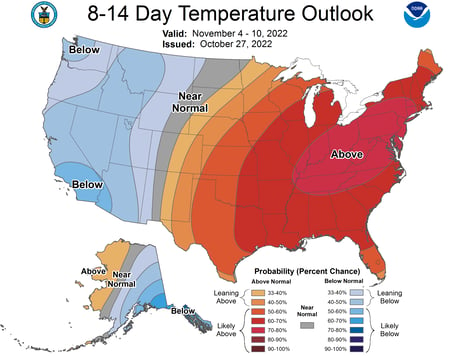 Should forecasts hold, storage injections may continue into November, erasing the deficit to the five-year average along with any apprehension about seasonal storage sufficiency and early-winter upward price momentum.
---
Natural Gas Weekly Market Report - October 27, 2022
December NYMEX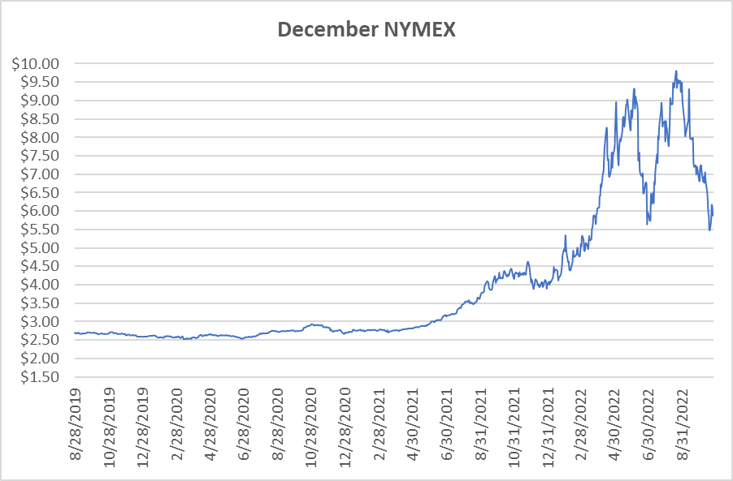 November NYMEX: November moved off the board Wednesday, October 27th, settling the month at $5.186/Dth.
December NYMEX: Settled Thursday at $5.875/Dth down 24.4 cents from Wednesday's close at $6.119/Dth, but up 3.7 cents from the prior week.
12 Month Strip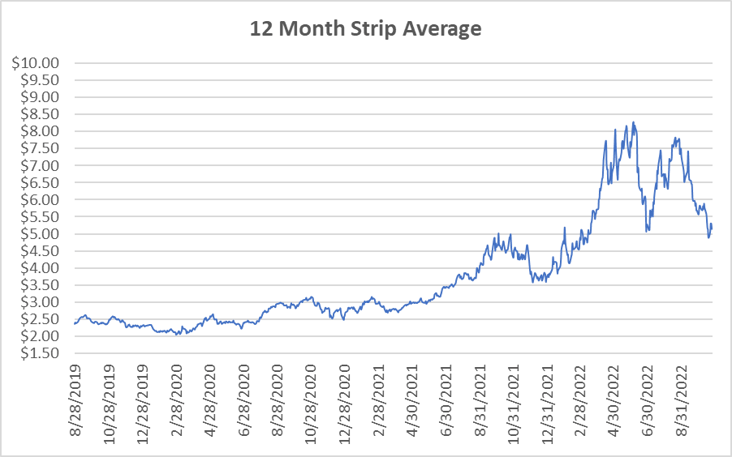 Settled Thursday at $5.143/Dth, up 2.2 cents from the prior week.
Seasonal Strips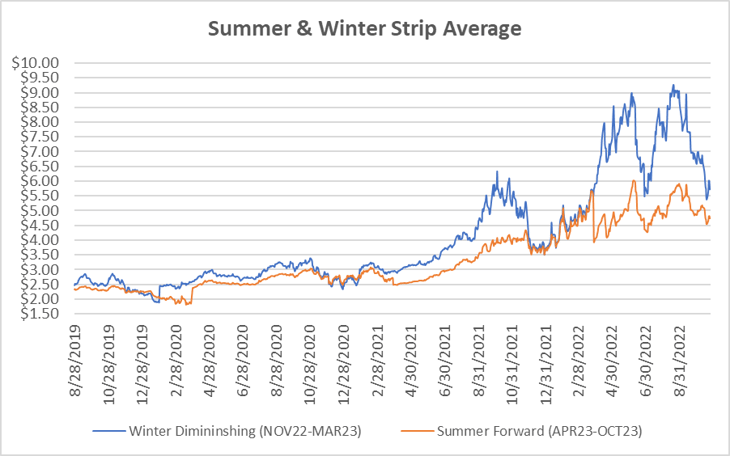 The winter strip (NOV22-MAR23) settled Thursday at $5.716/Dth, down less than a penny from last week while the summer strip (APR23-OCT23) settled at $4.734/Dth, up 4.2 cents.
Calendar Years 2022/2023/2024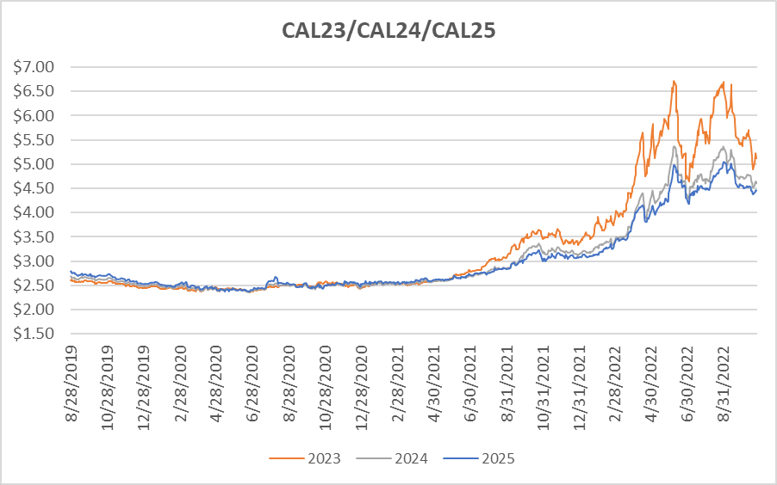 Crude Oil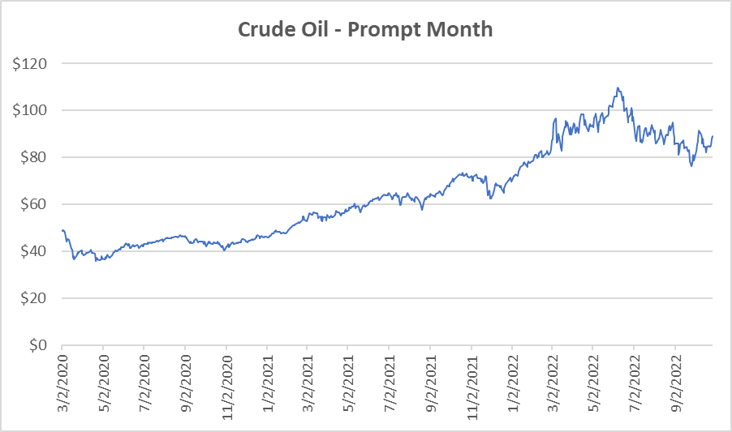 Settled Thursday at $89.08/barrel, up $4.57 from the prior week.
---
Need Help Making Sense of Natural Gas Prices?
We can help you manage risk and navigate the current price volatility. We'll evaluate your current contract and explore your natural gas buying options.
Call us at 866-646-7322 for a no-cost, no-obligation analysis today.